Electric Cinema ReDux
a research/curatorial project by Tina Bastajian
in collaboration with the 38th International Film Festival Rotterdam & The EYE FILM INSTITUTE NETHERLANDS -formally the Netherlands Filmmuseum
2007 IFFR Catalog
*
Libary collection: Universiteit van Amsterdam



Electric Cinema Amsterdam circa 1970's :
Re-staging and Rendering in Praxis and Premise (2007)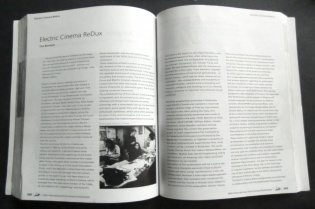 Programme 1:

The Manifestations of Presence: The Expanded
Film Performance and the Impulse to Preserve
works by-
William Raban, Kurt Kren, and appearances by VALIE EXPORT, Jos Schoffelen and Malcolm Le Grice
Related texts:


Programme 2:

Electric Cinema Redux: Time/Space Capsules in Flux

A sampling of films that explore time and space through single, double and triple screen projections by both Dutch and visiting film makers who came to Electric Cinema in the 1970s.


Programme 3:

Electric Cinema Redux: The Before & After Glow




[2007]
re/turn
re/turn
IFFR Programme Links
Focusing on the era of Amsterdam 's Electric Cinema (circa 1969-1973), an
underground venue for experimental film run by a handful of filmmakers
from the Dutch Filmmakers Co- op, part of STOFF, (Studio ter Ontwikkeling
van Film and Filmmanifestaties). The three programmes at Rotterdam will
bring together a diverse selection of films byinternationally renowned
experimental filmmakers, (Malcolm Le Grice, VALIE EXPORT, Kurt Kren,
Carolee Schneeman, William Raban, etc.) who screened and personally
presented their works, in which filmmaker Barbara Meter was responsible
for curating during the time of Electric Cinema.The Filmmuseum is currently
in the process of restoring approximately 400 Dutch experimental films and
the Electric Cinema Redux programme will include a preview from a
sampling of newly restored works by prior Dutch Co-op members;
Barbara Meter, Mattijn Seip and Daniel Singelenberg.

Yet the notion of film preservation also invites us to look at the other,
more intangible elements critical to Electric Cinema and other similar
manifestations. Unlike the configuration between more object-based
approaches to preservation, which determines the âoriginalâ with other
more delicate issues, related to film preservation. Electric Cinema ReDux
also considers the surrounding elements of specific film works and the
'presence' of presentation: the distinctiveness of the era, the uniqueness
of each projection, 'live' or expanded cinema, the accumulation of decay
inherent to the work itself and the emphasis on active spectatorship. Yet
in the fixed logic or impulse to preserve, we are perhaps reminded to just
sit back and partake in the before, during and afterglow of Electric
Cinema.