1995 | 10 minutes | digital | sound | color
In Armenian and English with English subtitles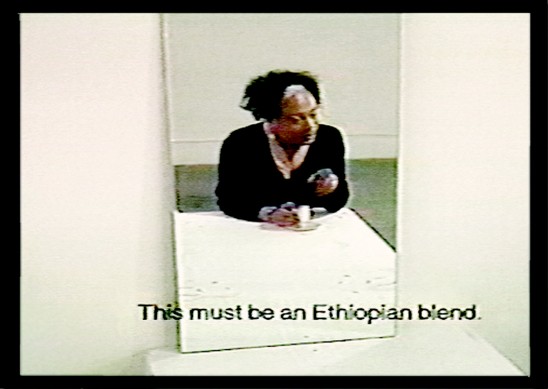 A triangulation of themes, positing layers of a monologue, mirrored images and a conversation heard and overheard. A questioning of belonging; to a culture and language that is both familiar and alien. The ambiguous background chatter in Armenian questions a woman's presence because of the color of her skin. An ironic twist challenges racial slurs with the mystery and wisdom embodied in the making of Armenian coffee, and the reading of the coffee grounds.

Distributed by KINOstudio
Selected collections include: The University of Pennsylvania;
Fordham University; UCLA; University of Arizona;
University of Massachusetts at Amherst; CUNY-Staten Island;
University of California-Irvine; Queens College (NY); Emory
University.

" "
re/turn

PINCHED CHEEKS AND SLURS IN A LANGUAGE THAT AVOIDS HER

" Pinched Cheeks and Slurs in a Language That Avoids Her [...]
remains insistently diasporic and irreducibly catachrestical. The
film does not return to us what we know or what we want to know,
but rather turns us from where we were going. Its images bend
without snapping back into shape. It flexes us. Ruination without
reconstruction. Re-flexion without return. "
David Kazanjian
Discourse Journal
Volume 33, Number 3, Fall 2011